Services and support on AMS test in design and production
D4T Systems
can provide customers with services and consultancy support on a variety of analog mixed signal related test activities. We have expertise on both design-for-test (DFT) for AMS blocks in design, test interfaces and protocols as well as test validation and defect oriented test simulation. In all the services we provide, test cost reduction and test quality are considered to be the most important drivers for test improvement.
We can support you in the following test areas:
Design related test improvement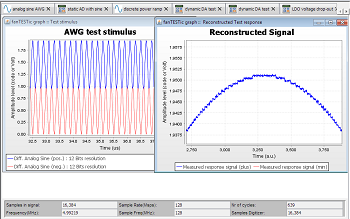 Together with our customers we develop innovative, breakthrough solutions in AMS test early in the design phase. Design analysis, a wide test expertise in analog and digital test and knowledge from test research and international test standards are all explored to the fullest to come to innovative solutions for our customer. You can think further of:
Test strategy and test architecture definition
Design-for-test for analog mixed signal circuit design
Test interface definition (JTAG), test protocols and alternative multiplexed test busses (SPI, I2C).
Test signal routing using Analog and digital on-chip test busses
Design and test services with IEEE test standard support (JTAG).
Probe points and optimized on-chip monitoring
Services on (partial) BIST definition
Innovative approaches for AMS testing dedicated to your design.


Tool and flow related test development

Automation in AMS test is key in decreasing test cost for future designs. Together with our customers we provide services to come to an automated test development and quality estimation of the test plan. All this is done specific for your IC design. D4T systems brings unique value to customers with its
test validation tooling which is based on test models
for tester instruments, loadboard and DUT.
Test automation and simulation for AMS test development
Validation and verification of test plan at pre-silicon
Model driven test development using unique models for test instruments, customer loadboard and IC.
Test coverage analysis at pre-silicon
Test order calculation
Innovative test approaches supported by automation tooling